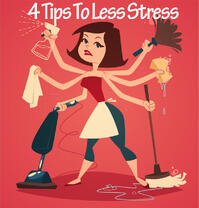 Do you find yourself unable to relax in your own home? Your home should be your place of peace, your sanctuary, but instead you feel anxious and easily distracted. What's up? It may be your stress level! Chances are your clutter is at an all time high, the blinds need to be dusted, and the carpet needs to be deep-cleaned. Are we right? If you can't even unwind in your own home, where can you?
It may come as a surprise to hear that the condition of your home can play a huge role in how we feel about ourselves. A messy home leaves you feeling anxious, distracted and overwhelmed, and maybe even helpless in the situation. Yet, we rarely label this as a significant cause of anxiety. However, many people come home and are overwhelmed by the chores that need to be done. Recognizing this and taking action to get your home clean can considerably help lower your high stress levels.
There are several easy solutions to getting your home (and yourself) back into a peaceful state of mind. The best resolution? Hiring a professional cleaning service to tackle the beast for you. Ease your mind by fixing the root of your stressful problem – a messy home.
If any of these possible situations sound familiar, you may be adding extra burdens to your already hectic life. We have the solutions for you to gain back control over your home.
You visit a friend's house for dinner and marvel over how pristine and organized everything looks. You picture your own unorganized home, and the guilt sets in.
The solution: First Coast Home Pros provides award winning house cleaning services. Our house cleaners care about your home and offer a variety of cleaning schedules to fit your family's needs. Click here to check out a full list of our housekeeping processes. Every one of our house cleaners undergo state and national criminal background checks and must take part in our vigorous maid service training program.
Your sister comes over for Sunday brunch and comments on how, unlike at her house, your wood floors have lost their shine. You can't stand it when she critics you.
The solution: First Coast Home Pros offers professional hard wood maintenance services to keep wood floors protected and beautiful. Our wood floor cleaning system is a two step low moisture process that we 100% guarantee for one month.
Your kids are constantly walking on the carpet with their shoes on and just yesterday the youngest spilt a glass of juice. You took the best steps to try and remove it but the indication of an unfortunate spill remains.
The solution: First Coast Home Pros is a full service professional carpet cleaning company using the best techniques, highly trained, IICRC (The Clean Trust) certified technicians, and the most technologically advanced equipment on the market.
The in-laws are coming to visit, again. The last time they visited, your couches were covered in dog hair and they opted to get a hotel room.
The solution: Most manufacturers recommend professional upholstery cleaning of your furniture every 12-24 months. First Coast Home Pros specializes in upholstery cleaning services that are guaranteed to safely and effectively revitalize your upholstered furniture with the highest standard of care and quality.
If you can relate to any (or all) of these stressful situations, start by making these simple DIY cleaning tips a habit so you don't become overwhelmed when it comes to house cleaning chores:
Everyone makes little messes throughout the day and cleaning as you go will prevent messes from building up into unmanageable situations. A good rule of thumb: If it takes less than two minutes, do it now. When you go to unload the dishwasher and noticed the door needs to be wiped down, take the extra minute to clean it.
While you are on hold on phone or have a spare minute, clean out the kitchen junk drawer, throw out expired items in the pantry, or remove the shoes that have gathered in the family room. Recruit and reward your family members for doing the same.
Store cleaning supplies in the bathroom
This makes it easy to use (and less of a process) when the floor could use a quick mop. Using disinfecting wipes on the sink or counter between deep cleans will make it seem more manageable, as well.
Use the suction attachment to clean surfaces
Oftentimes, places such as lamp shades and electronics bring about the most dust bunnies. Dusting should be the first thing you do when you start cleaning. If you clean the floors before dusting, you've only created more work for yourself.
Vacuum in the high traffic areas frequently
This is a good habit to have and will prevent from dirt building up. Being proactive will pay off in the long run and keep your stress levels down.
The kitchen is the heart of your home. Cleaning the pots and pans and clearing plates off the table and into the dishwasher will save you from having a dirty dish overload. Kitchens are prone to bacteria growth, so get everyone who ate to help wipe down counter tops and sweep up crumbs.
We've heard every excuse in the book for putting off the cleaning chores. You're thinking about the long list of things to do at work, getting your kids to practice on time, and what to make for dinner. Take the 'divide and conquer' approach instead of the 'I'll get to it later' approach.
These simple DIY steps will help keep your house clean and ultimately, your anxiety levels low. The cleanliness of your house can be easily managed if you take it one day at a time and know when it's time to call in the professionals for certain situations. Hiring a professional cleaning service will help you get your house back in order so you can spend your free time doing the things you love. So, save the guilt and embarrassment for those unfortunate situations that you can't control, not your home's cleanliness.
First Coast Home Pros consists of highly skilled professionals who are committed to providing you an unsurpassed level of service with the highest standard of care. We have teams of specialists to clean your home inside and out, from top to bottom. For a full list of the Jacksonville house cleaning and home improvement services we offer, check out our website.