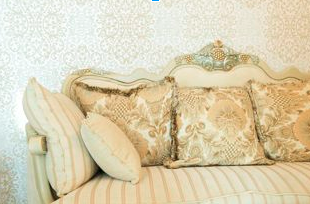 Upholstered furniture receives almost constant use. We sit on it, lounge on it and put our feet on the fabric, let the pets lay on it, and the kids play on it. Dust and pet hair settle into the cracks and corners, and the daily wear and tear can really start to show. It's possible to keep your upholstery looking tidy, but like many other features in your home, it benefits from regular professional deep cleaning. Don't let the "dry clean only" tags deter you; getting your upholstered furniture thoroughly clean is easier than you think!
Labels Can Be Misleading
Though upholstered furniture often comes with labels that recommend dry cleaning, very few types of fabric furniture actually must be dry cleaned. Upholstery manufacturers frequently recommend dry cleaning for two reasons. The first reason is to protect themselves from any liability. After all, the dry cleaning method poses low risk of damage to the fabric. The second reason is because it's easy. Upholstery is often made of varied fibers and materials, so it's also easier to just recommend dry cleaning, rather than do the necessary research for the various fibers and devise an appropriate cleaning regimen for the individual piece of furniture. Of course there are rare cases of upholstered furniture that truly does require dry cleaning. In these cases, a highly trained professional upholstery cleaner that is certified by the IICRC (Institute of Inspection Cleaning and Restoration Certification) should assess the furniture and make the decision.
Benefits Of Extraction Cleaning
The most thorough cleaning your upholstered furniture can receive is through the hot water extraction method, or steam cleaning. In this process, a mixture of hot water and cleaning solution is injected into your furniture and then immediately suctioned out, taking with it the dirt and grime that has built up in the fibers and backing of the fabric. Trained upholstery cleaners specialize in devising the best cleaning formula for each individual piece of furniture. This means selecting the perfect water temperature, pH level, cleaning solution formula, and dwell time in order to ensure your furniture is truly getting deep cleaned. Too often a piece of upholstered furniture that would benefit from extraction cleaning is fitted with a "dry clean only" label. Furniture that should receive extraction cleaning but instead receives dry cleaning will never be as clean as it could be. If you're unsure about the type of cleaning that is right for your furniture, find the best professional upholstery cleaning service and leave it to the expertise of the professionals. A trained and IICRC-certified technician will make sure your furniture is being cleaned properly and effectively.
Whether you think your upholstery needs to be steam cleaned or dry cleaned, don't play the guessing game. It can be risky to apply sprays and solutions to your fabric furniture, and certainly a gamble to rent expensive steam cleaning or dry cleaning equipment and attempt to clean your upholstered furniture yourself. Trust the upholstery cleaning professionals to make good decisions for your furniture and to take great care in cleaning it.
The Jacksonville, FL Upholstery Pros
The best Jacksonville upholstery cleaners are versed in the dry cleaning methods as well as the extraction method of upholstery cleaning. At First Coast Home Pros, for example, we give our employees extensive training in the dry cleaning process as well as the hot water extraction cleaning process. Our technicians are IICRC-certified and trained to understand the best method to use on any type of furniture, and all types of fabric. Homeowners in the greater Jacksonville area, as well as the surrounding suburbs and beaches trust our expertise and love the work we do. Make an appointment for your own upholstery cleaning today!