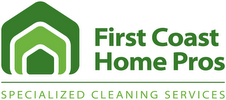 First Coast Home Pros customers often ask us how we are able to find such great employees. Our reply is simple: To be the best cleaning company in Jacksonville, we've got to have the best people on our team! Our goal is to be the best service company you've ever invited into your home, and we work hard to make sure we are bringing in the very best employees for the job.
What We Look For In An Employee
As Jacksonville's top-rated cleaning service, we have a responsibility to select the best technicians for each service team. We maintain a rigorous recruiting process, and receive many applications for each job we post – after all, we are one of the top 25 fastest-growing companies in Jacksonville! We are highly selective, and review approximately 100 applications for every 1 person we hire. Extensive national background checks are performed for each applicant, and we require references. Above all, we want high quality people on our team, and we hire based on character traits more than any other factor. We look for individuals who have a strong work ethic, take pride in their work, and have an aptitude for customer service.
What We Offer Employees
In addition to being the best cleaning company in Jacksonville, we are also a great place to work! We provide a friendly, positive work environment, and are always looking for new ways to let our team know they are valued members of the team. Once a team member is hired, he or she takes part in our intensive training process to ensure each necessary skill can be performed properly and efficiently. First Coast Home Pros is known for the investment we make in our technicians through extensive training. Educational opportunities are also available to our employees, who are given access to service-specific trainings and workshops to further strengthen their skills. Additionally, our staff receives industry-leading compensation and benefits packages. It costs a little more to have great people, but we think it's well worth it!
Your home may be in need of a cleaning project, and we're ready to take the stress of that project off of your shoulders. Our professional services include housekeeping, window cleaning, carpet cleaning, pressure washing, and countless other cleaning projects for your home. With services to Fernandina Beach, St. Augustine, Ortega, Fleming Island, and throughout Northeast Florida, we are the easy choice for your cleaning project!