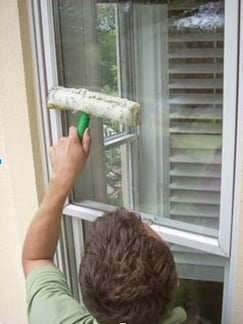 Here in Florida, we are known for our extreme weather conditions. Intense sunlight, thunderstorms, high temperatures, and humidity each plays a significant role in our lives, to say nothing of the salt, sand, and ocean overspray we get to enjoy throughout our state. These features make our region special, but at the same time they affect our homes and our responsibilities as homeowners. The windows of your home, for example, are greatly affected by the elements and need to be cleaned from time to time, not only to keep them looking good, but also to protect them from damage.
Professional Window Cleaning Recommendations
Professional window cleaning companies in Northeast Florida recommend that homeowners have their windows cleaned 1-4 times per year, with the average being two times per year for the exterior glass, and once per year for the interior glass. Within this general number, there are several reasons that will ultimately determine how often you want to have your windows cleaned. These reasons include:
Your home's location.

Your home's location and environment affect how clean the windows stay. Is your home on the beach? The closer you live to the ocean, the more exposed your windows are to sand and salty overspray. The sand and salt are corrosive to glass, so if you live right on the ocean, it is reasonable to have your windows cleaned once per month. Is your home downtown where pollution can cause soot and grime to accumulate? Or is it in the country where pollen and other natural residues may pose a problem? Each location has its own set of issues, but a great window washing company will have technicians who are trained to address each type of problem.




The type of home you have.

Is your Jacksonville house your winter home or a vacation home? If so, you can consider having your windows cleaned as infrequently as once per year. Schedule a cleaning right before you arrive, and you'll be able to enjoy clear windows for your stay. However, if your house is your year-long home, once per year may not be often enough to maintain clean windows and enjoy your home, yard, and garden.

Your personal preference.

If you don't mind the faint haze that appears on windows over time, or a few smudges here and there, you won't need to have your windows cleaned as often as would your neighbor who prefers pristine window panes. Likewise, if your home overlooks an amazing landscape or scene, you may wish to have the windows cleaned more often in order to appreciate the view and let your family, friends, and visitors do the same.




The type of window cleaning company you hire.

There are many Jacksonville window cleaning services, but some of them are more concerned with earning a profit than giving your windows a lasting shine. Subpar companies use ineffective cleaning formulas simply because they are cheap, and often use poor techniques so they'll be finished with the work as fast as possible. Find the professional window cleaners who do quality work and care about the service they give their clients. At First Coast Home Pros, we use the best cleaning formula in the industry. It's pH neutral, biodegradable, and best of all, it has anti-static properties in its formula that actually repel dirt from your windows, keeping them cleaner longer. Our technicians are trained to use window cleaning methods and techniques that will leave your windows thoroughly clean, with no streaks or drips.
The Best Jacksonville FL Window Cleaners
First Coast Home Pros specializes in cleaning windows - especially windows in Northeast Florida where salt and oceanspray are just as big an issue as the typical dirt and mildew. Homeowners in Ponte Vedra, St. Augustine, Jacksonville Beach, and Atlantic Beach call on us to clean the windows of their beautiful beach houses, and homeowners in downtown Jacksonville, Riverside Avondale, and the surrounding neighborhoods know we can remove even the toughest mildew stains and dirt accumulation. We'd love to make your windows clean and clear, inside and out, so call for your free in-home estimate and let us get started right away!