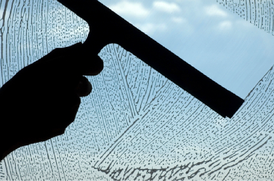 Windows look their best when they are completely clean, with no residue left behind. This seems obvious, yet too often a window cleaning company will offer to apply a wax product to window glass that has just been cleaned. The claim is that the wax allows windows to stay cleaner longer by protecting the surface, when in reality, the wax is a residue that will attract dirt and dust and leave a dull haze on your newly cleaned windows. For truly clean and clear windows, forget about the wax and hire the window cleaning professionals with the best quality cleaning formula!
First Coast Home Pros technicians are highly trained to clean windows thoroughly and leave each pane sparkling. We pride ourselves in using only the highest quality tools and materials, and that includes using the best and most effective window cleaning solution available. Our formula is far better than wax because it creates a hydrophobic barrier by changing the surface tension and the charge of the surface of the glass, making it repel water. Beyond its innovative formula, our window cleaning solution has multiple great qualities to ensure your windows get the best possible clean:
Stays wetter long, giving technicians enough time to thoroughly clean the surface

Leaves absolutely no residue

Leaves no bleeding or streaking

Can be used on plastic and glass surfaces, and will even shine metal surfaces

Leaves no haze or film, even on polymer-treated surfaces

Contains no phosphates, ammonia, or hazardous chemicals

Biodegradable and environmentally friendly
Your Local Jacksonville Window Washing Company
The best Jacksonville, FL window cleaning services know that for an effective clean and lasting shine, no residue can be left behind. First Coast Home Pros is the best window cleaning company in Northeast Florida, and our teams of window cleaners have years of experience working on every type of window. Seaside homes along Atlantic Beach, Ponte Vedra Beach, and Fernandina Beach have windows with salty residue, sand, and seaspray. Historic homes in Riverside Avondale, San Marco, Ortega, and of course Old St. Augustine may have leaded glass panes that just need a good but careful cleaning from time to time. For every type of window and every kind of home, we are the best professional window cleaning service, bringing years of expertise to the job. Ready for a window cleaning for your own home? Call us, then sit back, relax, and enjoy the clear view.