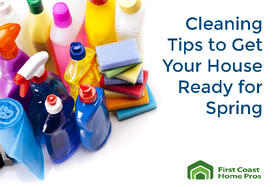 Spring is (finally) in the air. It seems that this winter was one for the Florida record books. The cold, wet and seemingly never-ending gloomy weather is now on its way out for good. Temperatures are rising, sunshine is consistently peeking out from around clouds and Jacksonville residents are preparing for springtime. Sure you're looking forward to backyard cookouts, beach trips with the kids and dusting off the bikes, but what about dusting…or let's be honest, deep cleaning, the house? You guessed it. We mean spring cleaning. We understand that it doesn't generate the same energy as fun outdoor activities do, but with a little help and a solid plan of action we think you will be just as excited once it is done! We've compiled the best cleaning tips to prepare your house for spring and advice for when to call in the pros' help.
Spring cleaning is all about giving you, your family and your home a fresh start. Before you start tackling cleaning tasks, open all the bedroom and common area windows to let the fresh air circulate throughout your home. On a beautiful spring day there's nothing better than to be outdoors, so bring the outside in while you clean and you won't feel like you're missing out.
Knowing where to start is half of the battle. Instead of creating unnecessary stress, divide and conquer the house instead of overwhelming yourself with one huge laundry list of things to clean. You've got enough going on - don't let cleaning add more stress. Check out these stress-reducing tips from our professionals to help keep your stress levels low. If your spring cleaning desires are too much to handle remember you can always call in the pros!
While vacuuming, dusting, and cleaning the bathroom are all typical weekly chores around the house, things like upholstery cleaning, tile and grout cleaning, and deep carpet cleaning are the types of tasks you want to incorporate into your spring cleaning list. These jobs, while tedious, really help the aesthetic appeal of your home's interior. At First Coast Home Pros we have specialized teams for each of these services. Every team member is trained and specialized to master specific services so that we can provide an unsurpassed level of service and care.
The furniture in your home often takes a beating between the kids jumping on the couches, food getting stuck in between the cushions, drinks spilling and staining the pillows and pet fur reappearing as soon you think it's gone. While we can't do anything about how much the dog sheds, we can help to restore your upholstered furniture to its prior glory. To maintain the appearance of your furniture, a professional cleaning is recommended every 12-24 months, depending on your home's environment. There are several different cleaning methods recommended by the manufactures and at First Coast Home Pros we pride ourselves in knowing which techniques are best to use for the materials on your furniture. Our upholstery cleaning services are guaranteed to safely and effectively revitalize the look of your furniture. We are trained in dry cleaning, steam cleaning or hot water extraction methods as well as furniture deodorizing and protection techniques. Check out these upholstery care tips and for more detailed information on our services or to schedule a free consultation, click here.
Do you remember the last time you deep cleaned your tile and grout? The tile in the bathroom or kitchen typically doesn't get the attention that it should. If this is the case in your home, let First Coast Home Pros do the dirty work and get you back to square one with tiles that look good as new, so all that's left for you to do is maintain them. Grout is naturally a very porous material making it a difficult DIY project. We are proud to be the leader in tile, stone and grout cleaning services for when mopping and scrubbing just isn't enough anymore. We also recommend adding a grout sealant to the grout lines to act as a barrier between the grout and contaminants so that they stay cleaner longer. For tips on how to maintain your floors after a professional cleaning, check out this blog post for a free guide and visit our website to learn the nitty gritty about our grout services.
Your carpet can be one of the most frustrating materials to deep clean. If you have a busy household, you are probably struggling with a bad stain and starting to give up on any chance of removal. Our carpet cleaning services have set the local industry standard. At First Coast Home Pros, we understand that every spot is different and we don't rule out anything before assessing each individual situation. Our technologically advanced truck mounted equipment isn't the only thing that sets our services apart, our technicians and technique are highly trained and advanced. The top benefits of this service are:
Dries in a few hours
Stays cleaner longer
No residue left behind
Top of the line equipment
No charge for pre-vacuuming
Pretreatment and neutralizing rinse included
Most spot treatment included
Check out these 5 tips on keeping your homes carpet clean and for more about our professional carpet cleaning techniques available, click here.
Who said you have to take on all the spring cleaning chores alone? Sometimes it's best to call in the pros to start you off right and give you a motivating boost. First Coast Home Pros offers a one-time house cleaning service to help put you on the right track. Our award-winning housekeeping services are sure to impress. Our house cleaners care about your home and strive to be the best you've ever invited into your home. Our one-time deep cleaning service is a great way to bring your home up to speed. After homeowners see our detailed work, many decide to continue with an annually, biannually, quarterly, monthly, biweekly, or weekly completely customizable cleaning plan with the same maid team.
There are a ton of great cleaning lists available if you are looking to tackle your spring cleaning chores alone, we've even got a pretty great one here. But, if you need a little help to prepare your home for spring, our Jacksonville housekeeping services are ready for you! Enjoy the beautiful spring days ahead and let us take care of the cleaning chores. To talk with us about more information on our services or to set up a free consultation, please contact us today!