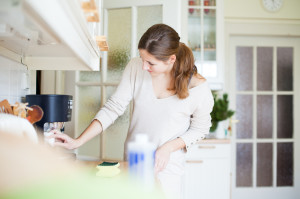 The process of cleaning can be a very intricate practice. Completing items in the proper order will allow for the whole house to be clean and tidy. If you go about things in any way, you can end up contaminating already cleaned portions of the home. For example, you want to vacuum the floors after you have gone through the process of dusting the furniture or high-up areas. That way you will vacuum up any dust or crumbs that fell to the floor during the process. Many professional cleaning companies that have been in business for many years have developed an orderly way of cleaning that result in a beautiful house and a happy client. Following a simple cleaning process can make all the difference during a house cleaning in Jacksonville and set one cleaning company apart from the rest.
Dusting
This is the first step to a good house cleaning in Jacksonville and can make all the difference in how a home looks. A thin layer of dust can take away the shine from the most expensive furniture. A weekly dusting is ideal but doing a wipe-down once a month can make a big difference in how neat a house looks. Dusting requires all surfaces to be wiped clean but also things get moved, put away and straightened during this process. Basically it's a time to thoroughly get rid of dust but also to tidy up a bit in order to clean further. You can use a number of products to dust along with a soft microfiber cloth. Some people prefer a product that polishes the wood in their home. Deeper cleans will require ceiling fans and baseboards to be dusted as well.
Vacuuming
Dusting and tidying up can create its own mess. Deep cleanings will require you to vacuum furniture especially in homes that have pets present. You will want to do this before you move on to the carpeted floors and area rugs. A couple of times per year many people like the space under their beds to be vacuumed. Don't forget about closets, lamp shades and even the window and door tracks in the home.
Bathrooms
A house cleaning in Jacksonville requires some attention to be paid to the bathrooms. This area can become germy quickly and because of the moisture levels in this room a home can easily grow mold and accumulate dust. It is also an area that is frequented by guests so you want this area to look its best. Wipe down any fixtures or towel bars that are present in the bathroom and begin the rest of your cleaning from there.
Clean mirrors and make sure they are streak free. From there you can focus on the toilets. While it's probably not anyone's favorite area to clean you should pay close attention to the seat, lid, bowl and top of the tank. This is one area you will want to use a high quality product on to make sure you can get rid of stains in the bowl and germs on the rest. Make sure you use a separate brush for this job and don't contaminate the rest of the bathroom.
The tub or shower unit is important as this area can become dirty very quickly especially in a home where children are present. A little elbow grease and a great tub product can go a long way in making this a sparkling job.
Kitchens
This can be one of the most needed house cleaning items in Jacksonville. Whether you are feeding your family each day or you love to entertain, this is the place where crumbs, bacteria and more can hang out. Start cleaning the stove first since this tends to be the messiest area. If you need to remove burners you can or simply wipe down the flat top surface to remove any splashes or spills. A deeper cleaning once or twice a year can include an oven or other small appliance cleaning.
Sinks can harbor a lot of bacteria and grime so it's important to remove any dishes that are present and scrub the sinks clean with an antibacterial soap or product. Move on to the countertops which should also be disinfected due to potential contamination during food preparation. Lastly, focus on mopping the floors to get rid of dropped food, crumbs, dirt and more. Depending on the type of flooring some people prefer an oil-based soap or disinfectant.
For those busy people who want to maintain a clean and tidy house but don't have the time to do it themselves, First Coast Home Pros can accomplish this for you. Experienced and skilled professionals will provide superior service for not only weekly or monthly cleanings but also air duct cleanings and carpet cleaning services.