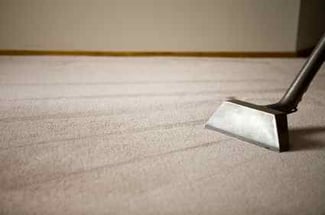 Carpet cleaning companies have the reputation of being tough, pushy, and delivering poor quality customer service and an even poorer carpet cleaning job. For example, some companies will buy the cheap cleaners and detergents in order to save on their bottom line. These cleaners leave residue and soap in your carpet, which attract dirt and dust to the fibers, leaving it dirtier than before. Those same companies often choose to forego the neutralizing rinse because of its cost, even though it is a crucial step in ensuring the carpet is thoroughly clean.
Other companies do not invest in the proper training for their employees, resulting in clueless workers who soak your carpet, leaving it wet far longer than it should be. Still other companies believe dry carpet cleaning is best, when in reality the chemicals can be less effective and merely coat your carpet fibers in dusty powder when not used properly. Perhaps the worst grievance of all among subpar carpet cleaners is the hard sell tactics known as "bait-and-switch." The bait-and-switch technique is the tactic employed by some companies to draw in the customer with low prices, then add hidden fees and pushy salesmanship to arrive at a much higher price for the final bill. Allowing carpet cleaning companies such as these into your home can end in disaster. Your carpet may be soaked and dirtier than before, and you will have parted with much more of your money than you should have.
We have compiled some information to help you avoid doing business with dubious carpet cleaning companies. Here are some of the red flags to watch for:
Ridiculously low prices advertised. A good rule of thumb with carpet cleaning pricing is that if it sounds too good to be true, it probably is.

Quotes are given by room, rather than square footage. A company may bait-and-switch you by offering a deal of several rooms or areas to be cleaned for one low price. It's only after they've entered your home that they explain how a tiny closet constitutes one of the "several rooms" mentioned in the ad.

Additional charges for "Heavy Soiling." This is a classic tactic of bait-and-switch carpet cleaners. Of course the carpet is dirty. Why else would you be calling to have your carpets cleaned if they weren't dirty?

Pushy salesmen. Once the technician arrives at your house, they want to upsell and add on as much as possible to the job and will use intimidation and hard sell tactics to do so.

Hard sell tactics. A company that relies on bait-and-switch tactics is also taking shortcuts on the quality of their tools and materials, and of course, on the training and care of their employees.
It's important to find a professional carpet cleaning service that is committed to delivering high quality services, not to mention providing the homeowner with outstanding customer service. Here are some earmarks of the best professional carpet cleaning companies:
The company uses direct drive truck mount equipment, which is the top of the line for the industry and the best choice for nearly every type of carpet.

The company uses high quality cleaning solutions and a neutralizing rinse, which will thoroughly clean your carpet and leave no residue behind.

Technicians have been trained to be hot water extraction experts, and know how much water to inject, how quickly to extract it, what temperature to use, and which cleaning formulas and detergents to use.

Technicians have been extensively trained to identify various stains and spots and understand the right cleaning solution needed to remove each one.

Technicians are certified by the IICRC (Institute of Inspection Cleaning and Restoration Certification).

The work is guaranteed, and the workers are bonded and insured.
Hiring the best carpet cleaning company for your home will ensure your carpet receives a high quality clean from skilled technicians, and that you aren't forced into paying for services that you don't want or need. Find a carpet cleaner you can trust, and the hard part is over!
The Jacksonville FL Carpet Cleaners You Can Trust
First Coast Home Pros in Jacksonville, Florida is the trustworthy carpet cleaning company, committed to giving the customer the highest quality of service. Our technicians are trained to be the best in their field, and we invest time and training into each employee. We use only the hot water extraction method, proven to be the best method for cleaning carpets, and preferred by nearly every carpet manufacturer. Homeowners all along the First Coast, from Fernandina Beach and Atlantic Beach, downtown Jacksonville, Riverside Avondale and Ortega, all the way to St. Augustine prefer us and know we will give their carpet the most thorough clean there is. Call today and let us do the same for your carpet!