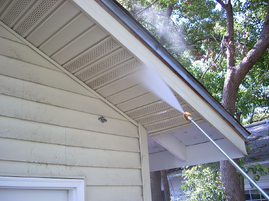 This is the time of year that we begin to notice the areas of our house that need to be cleaned. Our cool, damp Florida winters create the perfect environment for mildew to grow on nearly any surface. Dirt and grime appear anywhere and everywhere, including on your roof and the siding of your house. Mold can accumulate between the bricks or pavers on your porch and driveway, and salt and sand build up on the deck and patio. The solution to each of these problems is pressure washing, but which pressure cleaning technique do you choose?
The Right Pressure Washing Method For The Right Surface
The power washing method and the soft washing method both use a combination of pressurized water and cleaning detergents to clean a surface. The difference of course is that power washing relies on higher pressure, and soft washing uses lower pressure. Both methods are effective, but for different surfaces and different types of stains. The key to a great pressure washing job is understanding which method works on which surface, so hire professional power washers who know the difference and will choose the correct method for the job.
Power Washing Basics
The power washing technique uses high pressure to achieve its clean. In this method, the pressure washing wand expels water at a PSI (pounds per square inch) of 2500 or more, which is great for getting most stains out of concrete and other extremely hard surfaces, such as brick, concrete, and most types of stone. However, power washing can cause irreparable damage to softer surfaces. It can disturb paint from wood siding, remove the granules from the shingles of your roof, dent vinyl panels, and destroy window screens.
We strongly recommend using power washing only on these areas of your home:
concrete driveway, sidewalk, and walkway

patio pavers
Soft Washing Basics
The soft wash technique uses a softer pressure, usually less than 1000 PSI, and relies instead on the right detergents and the proper dwell times to get a surface clean. The "dwell time" refers to the length of time a cleaning solution or detergent needs to remain on a surface in order for the chemicals to effectively loosen and remove the stains, grime, and debris. After the appropriate dwell time has passed, the surface is thoroughly rinsed with low pressure, leaving behind a clean, smooth surface. Soft washing is safe and effective on all surfaces, and indeed, should be the only pressure washing method applied to most areas of your home.
We strongly recommend using the soft washing technique on these areas of your home:
cedar shake and wood panel siding

wood fences and decks

stucco and coquina

screens, screened enclosures, and lanais
A Word About "Non Pressure" Techniques
Some companies advertise "Non Pressure" techniques, particularly when it comes to roof cleaning. What this generally means is that they are going to use very large quantities of very strong chemicals to flush the surface until destroying the algae, mildew, and mold. Just like high pressure is not healthy for your roof, neither is this "Non Pressure" technique because of the harsh chemicals that are required. These chemicals, in large amounts and in high concentrations, which are often left on the roof to dry until the next rain washes them off, are very bad for your shingles as well.
As you plan to get your own home pressure washed, the most important thing to do is choose the best pressure washing company to do the job. Great professional pressure washing companies have highly trained technicians who will be able to determine how much pressure to apply, which cleaning solution or detergent to use on which stain and how long to let it dwell, and how to thoroughly rinse it all away, giving your home a complete and long-lasting clean.
Power Washing Jacksonville FL
First Coast Home Pros is the best Jacksonville, FL power washing company, serving downtown Jacksonville, Riverside Avondale, Ortega, San Marco, and all along the beaches from Fernandina Beach and Atlantic Beach to Ponte Vedra and St. Augustine. Our technicians are highly trained professionals with years of training and the skills and knowledge to know the best way to clean your home's surfaces thoroughly, while taking care not to damage your yard, plants, and property. We are the pressure washing experts, specializing in power washing and soft washing alike. This is the perfect time to clean your house with pressure washing, so call today and we'll get started right away!