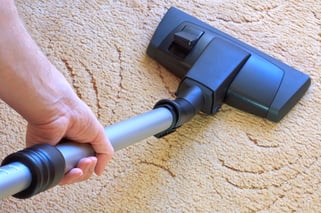 Many homes benefit from synthetic fiber carpet. The fibers used in such carpets are versatile, resilient, and highly resistant to stains. At the same time, synthetic fiber carpets are extremely soft and comfortable, available in any color and able to match any design, and therefore suitable for nearly any room in the house. Synthetic fiber carpets last for years, but to keep them looking their best, regular carpet cleaning is required.
Types Of Synthetic Carpet Fibers
The majority of carpets are made from synthetic fibers. Some carpets are comprised of blends, but most are made entirely of one of three fibers:
Nylon: These fibers are durable and resistant to most stains, though still soft and plush, making Nylon the most common type of carpet fiber.

Polyester: These fibers are durable and colorfast, with the added benefit of being hypoallergenic.

Polypropylene: These fibers do not absorb moisture, making this type of carpet resistant to mildew and most stains.
There are also several different styles of pile available for synthetic fiber carpet. The "pile" refers to the cut of the carpet fibers after they are looped through the backing during manufacturing.
Types of pile include:
Cut: The loops in this type of pile are uniformly cut.

Uncut: The loops in this type of pile are left looped.

Shag or Saxony: The loops are cut into long, individual strands.

Frieze cut: The pile is cut and the fibers are twisted into a pattern.

Textured: The pile is cut and the fibers are twisted and set into a pattern using steam.
The Importance Of Keeping Your Synthetic Fiber Carpet Clean
Regular carpet cleaning not only keeps your carpet floors looking tidy, but also extends the life of the carpet. The IICRC (Institute of Inspection Cleaning and Restoration Certification) recommends that all carpet be cleaned at least once a year, though many homeowners choose to get their carpets cleaned more frequently.
Regular carpet cleaning is beneficial in many ways:
Removes dirt, dust, and grime

Removes dust mites and pet dander, and reduces allergens

Removes abrasive particles such as sand that can damage carpet fibers and cause premature wear

Extends the life of the carpet
What To Consider When Scheduling Your Carpet Cleaning
There are several things to take into consideration when scheduling a carpet cleaning.
Consider the carpet: Understanding your carpet, including the pile and material used in its construction, will determine how you clean it.

Consider the room: Different rooms and areas in the house receive different levels of use and should be cleaned accordingly. For instance, a hallway might receive more traffic than a formal dining room, and therefore may require cleaning more often..

Consider the inhabitants: Does anyone in your home have allergies? If so, more frequent and more thorough cleanings would reduce the amount of dust and allergens. Are there pets in your home? Regularly scheduled deep cleanings could drastically reduce the amount of pet dander and odor, and will help keep pet hair at bay.
It's also important to consider the methods of carpet cleaning. Steam cleaning, or hot water extraction, is an especially effective cleaning method for synthetic fiber carpets. In this method, water is heated to beyond boiling, then injected into the carpet using pressure. The hot water, along with a cleaning solution, loosens dirt, dust, and debris. The steam cleaning wand then draws out the moisture and debris together, leaving behind a clean surface. This is the method most trusted by carpet manufacturers, and most revered by homeowners for its results.
Lastly, it's important to consider your own role in the carpet cleaning process. It is possible to rent a steam cleaner for the day, or even to purchase one. However, effective carpet cleaning not only requires the right tools, but also the proper training. Many DIY aficionados attempt to steam clean their own carpets only to find that their tools do not extract enough water, creating a mess of wet carpet. Still others may use the wrong cleaning solutions or the wrong techniques and end up spending a lot of time and money in the process. Carpet cleaning is a service best left to the professionals, so save your time and energy and find one of the best carpet cleaning companies to do the work for you.
The Best Carpet Cleaning Company In Jacksonville, Florida
First Coast Home Pros specializes in cleaning all types of carpet and flooring, including all synthetic carpet fibers. We hire the best employees, train them extensively, and certify them according to IICRC (The Clean Trust) standards, all of which guarantees you are getting the best and most knowledgeable technicians cleaning the carpet in your home. We use the best equipment in the industry, including a state-of-the-art truck-mounted carpet cleaning system. Our highly satisfied customers span Northeast Florida, from Fernandina Beach to St. Augustine to Ortega and beyond. Call on the Jacksonville carpet cleaning professionals for the best carpet cleaning service there is!