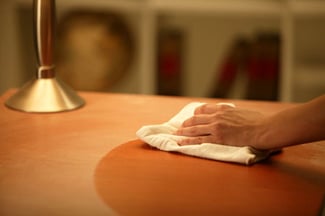 When clutter and dust accumulate and chores are left undone, a messy house can become overwhelming. Spending a few minutes every day quickly tidying or "speed cleaning" each room will help you stay on top of housework and maintain a clean home. We've compiled a list and a few tips to help you get started speed cleaning your own home.
Quick Tips:
Start by collecting any misplaced items in a room. If there are toys in the living room, collect them and take them to the play room, or if there are dishes left in front of the television, take them to the kitchen.

Move from one end of the house to the other, and bring your supplies with you. If you have all the cleaning supplies you need in a caddy, you can easily take them from room to room with you, rather than waste time dashing back and forth for spray, rags, etc.

Remember that speed cleaning is for maintenance, and that deep cleaning and specialized tasks will require additional time.
Kitchen (10-15 minutes)
Prepare a sink of soapy water and soak all dirty dishes

While dishes are soaking, spray all countertops with disinfectant spray and wipe them down

Wipe down the stove top and backsplash

Unload the dishwasher if necessary, and quickly load the dishes from the sink

Hand wash pots and pans

Wipe down the sink and faucet

Spot sweep any crumbs
Bathrooms (5-10 minutes each)
Squirt toilet bowl cleaner into the bowl and let it sit

Spray and quickly wipe down the tub, sinks, faucets and handles, and countertop

Spray the inside of the shower with a mildew inhibitor

Spray the mirror with glass cleaner and wipe it

Scrub the toilet bowl

Wipe down the toilet seat and surrounding area
Living Room & Dining Room (10-15 minutes)
Fluff cushions and fold throws and blankets

Use a duster or dry rag to quickly dust all surfaces, including electronics

Use a damp rag to wipe down all furniture

Tidy any surfaces such as a coffee table, end table, or desk by straightening books, magazines, mail, and paperwork

Spot sweep or use a hand vacuum to collect any dust bunnies or crumbs
Bedrooms (5-10 minutes each)
Make the bed

Fold or hang clothes, and put away any toys, books, etc.

Use a duster or dry rag to quickly dust all surfaces, including nightstand, headboard, bookshelves, and frames
This list will help you keep your home tidy, but you may already have a schedule that is simply too full, even for these few hours per week. In that case, let First Coast Home Pros help you keep your home clean. We are Jacksonville, Florida's best cleaning company, with an award-winning house cleaning service ready to clean your home from top to bottom! We offer one-time deep cleaning service, or we can put you on our schedule for weekly, biweekly, or monthly maid services. Our house cleaners have been rigorously trained and know how to do the job right. We clean homes weekly along Fernandina Beach, Ponte Vedra Beach, and Atlantic Beach, as well as throughout downtown Jacksonville and the surrounding suburbs. If you'd like us to keep your own home clean and beautiful, call today and we'll get started with your free estimate!