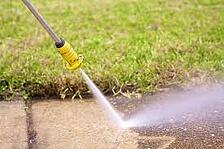 Let's face it -- over time, every homeowner will see dirt, grime, mildew and other unsightly stains accumulate somewhere on their property. From the house exterior, driveway, walkway, fence, deck, or patio -- it's bound to happen. You can even rent them by the hour. But that doesn't necessarily mean that you should take the job of pressure washing your house yourself. Some things are better left to highly trained professionals like those at First Coast Home Pros.
Contrary to what many big box stores will have you believe, unskilled pressure washing service can actually be dangerous, and can even cause more damage to your house than it would cost you to hire a professional. You are working with a machine capable out outputting up to 4,000 pounds per square inch of water. That's a lot of power!
Water abrasions, high-pressure injection injuries, blindness, and slips and falls are among common injuries unskilled pressure washers may incur. If not wearing the proper protective clothing, the high pressure water is capable of stripping skin right off of any body part it touches.
High-pressure injection injuries involve debris, such as sand, rocks, paint thinner, grease, oil, plastic, or cement, impaling your body at an extremely high velocity. Once debris is lodged underneath the skin, it may initially seem benign, but if left untreated, it can result in severe infection. Debris can easily cause damage to an unskilled operator when you pressure wash your Jacksonville driveway.
Potentially harmful chemicals are often added to the water when pressure washing, and if not careful, these chemicals can cause severe eye damage and even blindness if they come in contact with your eyes. You may not even realize the chemicals are in your eye until hours after the pressure washing has been complete. Flying debris is also common when pressure washing and is capable of inflicting severe eye damage.
Slips and falls are one of the most common injuries among unskilled pressure washers. Never attempt to pressure wash from a ladder or roof. Using a pressure washer on a ladder or roof may be necessary to fully clean your home, but be warned -- these jobs are extremely dangerous and should only be completed by trained professionals!
Professional power washers like those at First Coast Home Pros are extensively trained to avoid such situations, and guarantee the highest quality pressure washed home or driveway in Jacksonville.
Now that you are aware of the potential bodily damage that can occur when pressure washing your own house, you should be aware that improper pressure washing can also cause thousands of dollars in damage to your property.
Damaging your property is easy to do when using a powerful machine like the pressure washer. Because most aren't aware of the extent of power being produced, it's easy to become careless. If not careful, certain pressure washers can even inflict damage on concrete! Imagine what they can do to your vinyl siding, composite deck, wood patio, or any other material that is softer than concrete. If you get an inch or two too close to your wood or composite deck, the power washer can cause irreparable harm. If done incorrectly, because of cracks in vinyl and wood, you also have to be aware of the potential for mildew to form. Professional power washers advise you to never attempt to power wash windows.
For the reasons discussed above, it may seem obvious that you need a professional to pressure wash your home or driveway in Jacksonville. The professionals at First Coast Home Pros use lower psi machines and a special mild chlorinated detergent to ensure that your property is properly cleaned with no damage. One more reason to use First Coast Home Pros is because, if by some small chance, something does go wrong, they are insured for up to $2 million in general liability insurance, full workers comp coverage on all employees, and are bonded as well. This should put your mind at ease when considering your options to pressure wash driveway Jacksonville.