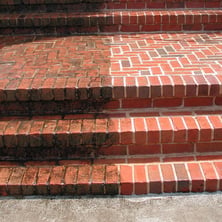 Pressure washing is the best way to get exterior surfaces thoroughly cleaned. Patios and decks, sidewalks and driveways, and exterior sidings of all kind each attract mold, mildew, bacteria, and general dirt and grime. Luckily, each of these can be quickly and effectively washed away with pressure washing. Beyond cleaning a surface, pressure washing can also do wonders in revitalizing its appearance! However, the equipment and materials required, along with the skills and knowledge needed make pressure washing one of the home improvement projects best left to the professionals.
Concerns of DIY Pressure Washing
Pressure washing equipment can be rented and even purchased. However, even ambitious DIY enthusiasts often opt to hire professional pressure washing companies rather than attempt to use the machinery on their own patios, decks, and homes. A pressure washer is a complicated tool to operate even for experienced users, and is downright dangerous in untrained hands. Safety concerns include the following:
Damage to property - Pressure washing can cause damage to your property when it is done incorrectly. The jet stream is powerful and can gouge wood, dent metal, shatter windows, and destroy fragile detailing on your home.

Injury to self or others - The water pressure can cause severe injury to you or a nearby person or pet.

Additional materials needed - Pressure washing projects often require the use of ladders and their subsequent safety protocol. Operating a pressure washer while on a tall ladder or rooftop can be an especially dangerous combination, since all surfaces are wet during a pressure washing project.
In addition to causing safety concerns, renting and operating a pressure washer could prove entirely ineffective if you don't have the right cleaning solutions. Indeed, having the right cleaning solutions and knowing their proper application methods are even more important than having the machine itself! The pressure washer wand sprays a mixture of water and cleaning solution, which can be harmful to your plants and environment if you don't have the right mixture. Likewise, you need at least a basic understanding of how to apply the solution in a way that not only avoids streaks but also prevents the water from settling into cracks or collecting under shingles.
Attempting a pressure washing task yourself can also take longer than you think. Even after you have learned to use the machine, you need to prepare the area by laying tarps and covering nearby plants. After pressure washing, you need to collect and dispose of the debri that has loosed, paying special attention to properly disposing of any lead paint. When all is said and done, your pressure washing task can become a long and complicated chore, with inherent risk and cost. Call a professional pressure washing service instead!
Jacksonville's Best Pressure Washing Company
Your time is too valuable and your personal safety too important to spend pressure washing your own home, especially when the best pressure washing service is right in your neighborhood. First Coast Home Pros is Northeast Florida's best pressure washing company, and our technicians are extensively trained in the safe operation and proper application methods required, offering you a comprehensive exterior cleaning service. Our professional-grade equipment is the best in the industry, and we have the right cleaning solutions and skills for your project, from pool decks to stone siding, and even including coquina. Beachfront homes along Atlantic Beach or Ponte Vedra Beach can get covered in salt and sand. Likewise, historic homes in Riverside Avondale get their share of dirt buildup and mildew. The solution to each of these problems is a thorough pressure washing, and we offer the best pressure washing services in the area! Call us today and set up your free estimate.