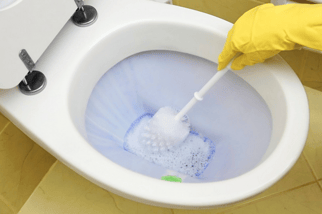 For most of us, the bathroom is the most dreaded of the routine cleaning tasks, so we designed this checklist to make the chore go as quickly as possible. This cleaning plan ensures your bathrooms are clean and looking great for the whole family, as well as any visiting guests.
Grab your cleaners of choice, and let's get started! You'll need:
disinfectant sprays, whether store bought or homemade

glass cleaner

toilet bowl cleaning solution and brush

microfiber cloths

sponges (choose sponges that are tough enough for grime and scum, but that will not scratch any of the surfaces in your bathroom, including ceramic, porcelain, marble, tile, and brushed metal)

bucket

wet mop

rubber gloves (if desired)
Now, you're ready to make your way through the checklist. The following routine is recommended for weekly cleaning, but could be adapted for daily, biweekly, or monthly cleaning, or whatever fits your schedule and needs.
Collect your materials.
Many homeowners like to keep all cleaning materials together in a caddy to make this step as quick as possible, and to easily carry from bathroom to bathroom.
Clear your work area.
Fill an empty laundry basket with anything that doesn't belong in the bathroom, including shoes, reading glasses, dirty clothes, etc. Set the basket outside the bathroom, and deliver the belongings to their rightful locations after cleaning.

Then, set aside anything else in the bathroom that might get in the way of your work. This includes bath mats, lotions and soap dispensers, and the trash bin.
Make your mop water.
Fill your mop bucket with a mixture of disinfectant and warm water and set it aside. (You can also mix ¼ cup mild dishwashing soap with 1 gallon of warm water for a safe and effective cleaning solution for most bathroom flooring.)
Clean the toilet.
Spray the disinfectant all around the toilet, including the seat, underneath the seat, the tank, and the surrounding floor. After spraying, let it sit.

Squirt bowl cleaner into the toilet bowl and clean it with the toilet wand or brush.

Wipe down the toilet seat, tank, and surrounding area with a microfiber cloth.
Clean the shower.
Spray the shower and tub with soap scum remover, and let it sit. Many of these cleaning chemicals rely on adequate dwell time to do their work, and soap scum remover, in particular, needs time to sit in order to be most effective.

If your shower has a glass door, wipe it down with glass cleaner.

If your shower has a curtain, check for mildew in the crevices. If you find mildew, remove the curtain, lay it flat, and spray bleach or another mildew killer onto the affected areas. Let it sit for a few minutes, and then scrub it off with a sponge. You could also throw the curtain into the washing machine and add bleach, if the label on the curtain indicates it's safe to do so.
Clean the sink and vanity.
Dust all fixtures with a dry microfiber cloth or a long-handled duster.

Spray the bathroom mirror with glass cleaner and wipe it down with a microfiber cloth.

Spray the disinfectant all over the sink area, including counter tops, sink basins, and the faucet, and let it sit.

In the meantime, spray disinfectant into a microfiber cloth and wipe down all cabinet faces. Use the same cloth to wipe down all cabinet hardware, doorknobs, light switches, and anything else that gets routinely handled or touched.

Wipe down the sink area. If there is mildew or any other type of buildup around the drain, scrub it with the sponge or with an old toothbrush.
Change the linens.
Replace all washcloths, hand towels, bath towels, and other linens with fresh ones. (Some homeowners like to do this more frequently than once per week.)
Clean the floors.
Sweep the floor.

Mop the floor using a wet mop or sponge. Clean the floor in sections, scrubbing each section, then going over it again with plain water to ensure no residue gets left behind.
Take out the trash.
Take out the trash and replace the liner. If necessary, spray the inside of the bin with disinfectant and wipe it out with a rag or microfiber cloth before replacing the liner.

Spray the outside of the bin with disinfectant and wipe it down.
Replace the bathroom contents.
Shake out the bath mat and replace it.

Vacuum any rugs that are used in the bathroom.

Wipe down and return all lotions, soap dispensers, etc. to the countertops.
Address any issues you noted.
Cleaning the bathroom is a great time to take inventory, so make note of any bathroom items you may be running low on, including soaps and shampoos, and also cleaning products.

Make note of any larger issues you may have come across while cleaning. For example, if you noticed mildew or mold in your tile and grout, or suspect your air vents may be clogged, you may want to call a professional cleaning team to address the issues.
This checklist should make your bathroom cleaning chores go smoothly. However, if cleaning your bathroom is something that you simply want no part of, call the best professional house cleaning company in your area and let the professionals do it for you!
The Best Jacksonville FL House Cleaners
The First Coast Home Pros house cleaning division is an award-winning team of the most meticulous, highly-skilled, and friendly technicians in Florida. We specialize in deep cleaning and maintenance cleaning alike, and love to work with each client to find the perfect cleaning routine to meet his or her needs. Many of our clients depend on us for weekly cleanings, and love the work we do. We keep homeowners happy in downtown Jacksonville, Fernandina Beach, Ponte Vedra Beach, Ortega, and all over Northeast Florida, and we'd love to design a customized cleaning routine for your home, too. Call today and we'll set up your free in-home estimate and get started!