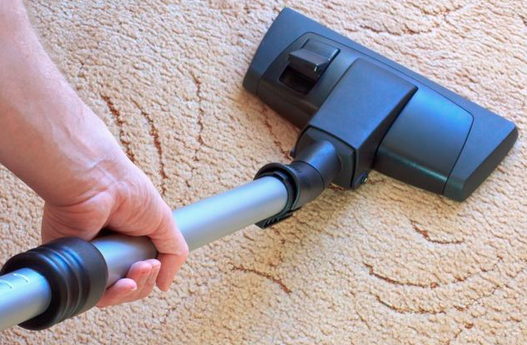 Even the most responsible homeowner can unwittingly ignore one of the most important features of the home: the carpet. When your list of home improvement projects gets lengthy, carpet care can get pushed aside, but with drastic side effects. Ignoring your carpet gives dust and dirt the chance to settle into the fibers, allows allergens to thrive, creates poor air quality, and gives your home the appearance of being unkempt. Use our pro tips to keep your carpet looking and feeling fresh, and your home looking its best.
Pro Tips For Keeping Carpet Clean
We've compiled a list of tips for keeping your carpet as clean as possible.
Take your shoes off at the door. Truly one of the best things you can do to keep your carpet in top shape is to take off your shoes when you enter your home. If you leave your shoes on you will track dirt, grime, and endless types of germs right in to your living space. Designate a mat or general area near the door and let family members and visitors know the rule. As a bonus, socks are gentler on your rugs and carpet and will help preserve them.

Vacuum regularly and often. Vacuum a minimum of once per week, and in areas of high foot traffic, vacuum 2-3 times per week. Vacuuming prevents dirt and grit from building up, settling into your carpet's backing, and corroding the fibers of your carpet.

Use your vacuum's attachments. Use the tools and attachments that came with your vacuum in order to thoroughly clean baseboards, stairs, tight corners, and other hard-to-reach places, and to reach behind heavy furniture.

Act quickly when a spill occurs. As soon as a spot or spill occurs, act quickly to clean it up before it turns into a deep-set stain.

Test your cleaning products before use. Whether you are using a commercial cleaner, a typical household product, or a homemade formula you found online, you will want to test it before using it on the entire area. Find an inconspicuous corner and apply a small amount to make sure it is safe to use.

Blot stains; don't rub them. Blotting applies a small amount of pressure to the stain particles to collect and remove them. Rubbing, on the other hand, just grinds the particles deeper into the carpet fibers. Blot inward from the outside of the stain to avoid spreading it.
Use Rental Equipment Only With Great Care
Some homeowners have luck renting equipment and having a DIY carpet cleaning marathon on their floors. This is risky business. Too often the machine or tool you rent is not good quality. It will expel a lot of moisture into your carpet, but does not have the powerful suction to pull the moisture back out of your carpet. If your rental machine leaves your carpet overly wet, mildew or mold can grow. Your rental machine may also leave soap scum behind, which will attract more dirt, leaving your carpet even dirtier than before. With all of this in mind, the number one pro tip we can offer for cleaning your carpet is to hire the best carpet cleaning company you can find and let them give the carpet in your home the most thorough clean possible!
The Best Jacksonville FL Carpet Cleaners
For the cleanest and best looking carpet, call First Coast Home Pros - the best professional carpet cleaning service in Jacksonville FL. Our technicians are extensively trained and our truck mount equipment is the best in the industry. Our teams of trained experts know how to treat stains, apply the right cleaning solutions, and extract as much moisture as possible from your carpet. This means they'll dry quickly and look great! We're the trusted cleaning service for homeowners in Fleming Island, Ponte Vedra Beach, Atlantic Beach, downtown Jacksonville, and the surrounding suburbs. Treat your carpet to an appointment with the carpet cleaning pros!