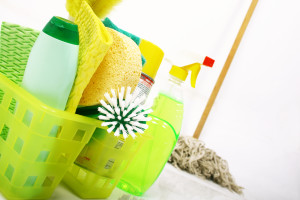 While winter in Jacksonville isn't harsh, fall should remind you that holidays are on their way and it's time to get some cleaning done, before things begin to get cold.
Fall is a great time for cleaning. Because it's much cooler, you won't find yourself exhausted in the heat. Outdoor chores such as raking leaves can be a fun experience for the whole family. It's also a good time to do some yearly indoor tasks such as pulling out seasonal clothes or purging papers.
Even though some fall cleaning should always be done by you, it doesn't mean that you have to do everything on your own. If you have cleaning chores on your list that you hate to do, have mobility issues or just plain don't have the time, a reputable cleaning service can help.
Where to Start?
While cleaning your home might be an everyday ritual, you might not know where to start with your holiday cleaning. Fall cleaning checklists are a great way to organize your cleaning chores and determine where you need some help.
Cleaning can easily be broken up by room or chores can be grouped by difficulty. While many chores on the list might be things you do weekly or even monthly, it is important to give them some extra attention during the holiday season.
Outdoor Cleaning
Outdoor cleaning in the fall doesn't just mean raking leaves. Leaves can clog the gutter, and during the year your siding collects dirt and mildew. Using a ladder to clean the gutters and windows is difficult for some people and renting and using a power washer can be daunting.
If you are planning an outdoor gathering for Halloween or Thanksgiving, our professionals can help you with windows; high pressure washing for your siding, driveways or patios; low pressure washing for your roof and even screen repair.
Our professional staff will help your home look like new from the outside just in time for those holiday decorations and parties.
Indoor Cleaning
Sure you keep your house clean during the year; however with the holidays and guests on the way, a deep cleaning will assure you of a sparkling home. Our maids will clean the carpets, remove any stains and leave every room smelling fresh. They will even get all of those difficult to reach places such as ceiling fans and chandeliers.
We can do everything from dusting to cleaning the blinds. Before you turn on that furnace, we can even help you make sure your vents are dust free.
Those Difficult Places
Not only do we offer regular housekeeping services, we also offer detailed services for those difficult rooms of the house. Everyone has those rooms and areas that they hate to clean. When was the last time you cleaned the coils behind your refrigerator? Cleaning out the dryer vent not only helps your clothes dry more efficiently, but it also helps prevent fires. But both of these chores are time consuming and sometimes difficult.
The bathroom is another room that should have a yearly deep clean. The grout between tiles can collect dirt over time even with regular cleanings. Our tile cleaning services will leave your tile and grout looking like new.
Your fall cleaning doesn't have to be a chore this year. If you have holiday cleaning tasks that you would like done, give us a call. We work around your busy schedule to make sure your home is ready for guests and holiday get-togethers. Call First Coast Home Pros and we can work with you to have your home ready for the holidays.