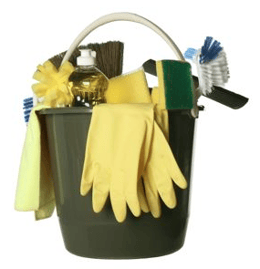 Scrub the tub and toilet, deep clean the kitchen sinks and countertops, and vacuum each and every corner, including the stairs. These are just a few of the cleaning tasks on everyone's Spring Cleaning checklist. Deep cleaning chores are taxing and time consuming, and as a result, often get overlooked. Then, when Spring rolls around, we have to stock up on sponges, rubber gloves, and cleaning supplies, roll up our sleeves, and get to it.
If you're like most homeowners, these deep cleaning tasks sound miserable, and it's easy to think of twenty things you'd rather be doing. Our advice is to hire the best professional house cleaning service you can find and hand the cleaning lists over to them. Leave all unwanted cleaning chores to the professionals, and focus on those twenty things you'd rather do!
If you live in Northeast Florida, choosing the best professional maid service is easy: First Coast Home Pros. Our award-winning maid service is in high demand, and it's easy to see why:
Our house cleaners are vigorously trained and highly experienced.

Our house cleaners are meticulous. Each of our employees has an eye for detail, and when the team leaves, you'll be able to tell that your house was cleaned by the best in the business.

We are highly selective of who was ask to join our team. Our house cleaners are hard workers and highly skilled, but beyond that they are friendly and client-oriented.

We use only the highest quality cleaning supplies - the best in the industry! Your home will be sanitized and sparkling when we are finished.

We work with you to design a fully-customized cleaning routine for your home.

We can do a one-time deep clean, or you can schedule us to come weekly, monthly, bi-annually - whatever works for you!

We fit into your schedule. Our office can find the perfect place for you on the calendar. We'll come on the weekday that works best for you, and at the time of day you prefer.

We take great care of you. We are not a supersized cleaning company chain; we're a client-centered operation focused on quality service and customer care.
Stop spending all your free time cleaning, and stop worrying about those deep cleaning tasks that have been ignored for far too long. Give us a call, then relax while our skilled maid service takes care of everything.
The Best Jacksonville FL Maid Service
First Coast Home Pros offers the best maid service and house cleaning in Northeast Florida. Our house cleaners are highly trained, friendly professionals who love to give our clients the absolute best care and service. Together with you we can create a fully customized cleaning regimen for your home so that your house gets cleaned exactly how you want. We specialize in deep cleaning, and we're the cleaning company to take care of your Spring Cleaning checklist. Just ask any of our clients throughout downtown Jacksonville, Ortega, San Marco, Ponte Vedra, Fernandina Beach, and St. Augustine, and they'll agree: if you want your home thoroughly cleaned by housekeeping specialists, call on First Coast Home Pros.