Working full time, raising a family, taking care of extended family, and other daily responsibilities take all of our time and energy. With the busy schedules that bedevil so many of us, it's hard to find time to do housekeeping and cleaning chores, and the longer we put them off, the more stressful they become and the larger they loom. Even if you do find time to tidy up and clean, that leaves no time at all for fun! The solution is simple: Find the
best maid service in town
and make your life easier.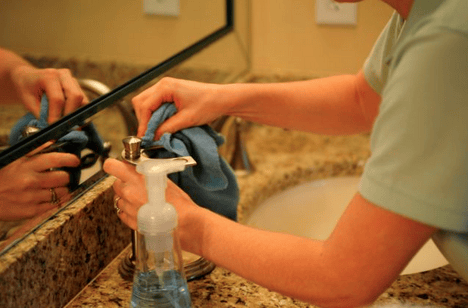 In With The Maid Service, Out With The Stress
Instead of spending your rare free moments frantically tidying up, rediscover what it's like to have time for yourself. When professional house cleaners are taking care of your home, you have time to do absolutely anything else. In case you forget what free time looks like, we have some suggestions:
Spend more time with your family.

Take the kids to the beach. We live on the shores of beautiful Northeast Florida - why not enjoy it?

Visit with friends.

Develop your hobby or discover a new one.

Take a walk in the evening.

Go out to eat.

Attend a concert or theater performance.

Learn a new sport, or sharpen up your skills.

Work in the garden, or start a garden.

Take a cooking class.

Visit the art museum or create some art yourself.

Go see that movie everyone is talking about, or read that book you've been wanting to read.
In addition to providing more time for yourself, hiring a professional maid service provides peace of mind.
You won't feel guilty about letting the chores pile up - they'll already be done!

When neighbors or friends stop by, you can invite them inside without worrying about how clean the house is.

If you want to kick off your shoes and watch some TV in the evenings, you can do it without feeling like you should be cleaning instead.
Stop feeling overwhelmed by your house cleaning chores and hire a great maid service to take care of it for you. Find a highly-rated cleaning company so that you know you'll be getting the best level of care for your home. You'll wish you had hired professional house cleaners long ago!
Best Maid Services Jacksonville FL
First Coast Home Pros has an award-winning maid service ready to go to work on your home. Our teams of house cleaners are extensively trained and hard working as well as trustworthy and friendly. We fit into your schedule no matter how busy you are, and whether you prefer weekly, biweekly, or monthly cleanings, or just want to schedule a one-time detailed cleaning, we have the team for you. Busy homeowners in Fleming Island, Jacksonville Beach, Ponte Vedra Beach, and the greater Jacksonville area depend on the First Coast Home Pros maid service to keep their homes looking great so they can enjoy time for themselves. Let us do the same for you!