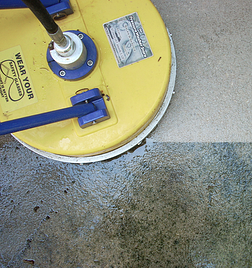 There are many pressure washing companies in Jacksonville, and when the time comes to have your house and driveway cleaned, you have a choice to make. Some pressure washing services are downright bad; they overcharge, and underdeliver. Other companies are mediocre and will show up and clean your house, but will leave you disappointed. At First Coast Home Pros, we do things a little differently. We have a dual focus on both the customer and the project, and go above and beyond to make sure that we leave you thrilled and your house sparkling. In short, we aim to please!
First Coast Home Pros is revered throughout Jacksonville for being the professional pressure washing company committed to quality and customer service alike. Here are some of the specific features that make us the best in the business:
Best Equipment
We use only the best pressure washing equipment, including a state-of-the-art trailer mounted rig and the best tools in the industry. We use high quality cleaning solutions, and carefully select the right cleaning chemicals that are just as safe as they are effective.
Best Techniques
We use only the safest pressure washing techniques, which means using low pressure. Other companies will blast your siding and pavers with extreme pressure, or apply huge amounts of harsh chemicals to make their job go faster. At First Coast Home Pros, however, we take the time to devise a formula with just the right cleaning chemicals and just the right temperature and pressure to remove the specific stains on your home, patio, or driveway without causing any damage. We take the time to clean your home thoroughly, without risking harm to your property in any way.
Best Technicians
We are highly selective of who we choose to hire. We hire great people, and we invest in them, making sure they receive extensive training and many hours of practice. Each member of our pressure washing team is highly knowledgeable and knows the right cleaning solutions and dwell times to apply to which stains, the right temperature and pressure for the water, and the correct methods of agitation - all of which are key to performing a successful pressure wash job.
Bonded & Insured
For your protection, our pressure washing service is bonded as well as fully insured, with general liability insurance and full worker's comp coverage on each employee. We really do take the worry out of everything!
Satisfaction 100% Guaranteed
You will be happy with our pressure washing service, 100% guaranteed! If you aren't thrilled with our work, call us back within the week and we'll make it right at no cost to you.




The Best Jacksonville Pressure Washing Service

Beautiful Northeast Florida is mild and wet almost all year long. That means mildew and mold build up easily, along with general dirt and grime. If you live along the coast or at the beach, grit from salt and sand accumulates as well. The solution to each of these problems is pressure washing, so find the best professional pressure washers and rid your home of all unsightly buildup. For the best results and the best experience, you want the pressure washing service that aims to please: First Coast Home Pros! We pressure wash homes throughout Riverside Avondale, San Marco, Fleming Island, Atlantic Beach, Ponte Vedra, and the greater Jacksonville area, and we'd love to pressure wash yours, as well.