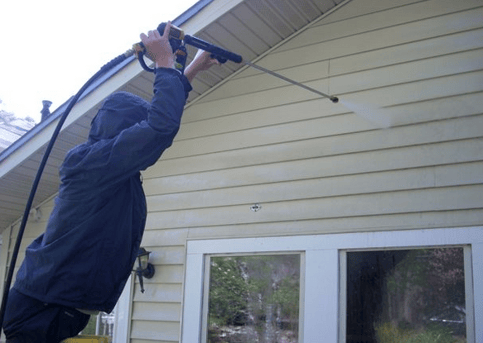 Spring is in full swing, and for many of us, so is Spring Cleaning, at least on the inside of the house. Whether Spring Cleaning to you means deep cleaning or simply tidying up, there's something to be said about getting a fresh start. As you make your way through the neverending list of tasks, remember that to keep with the spirit of Spring Cleaning, the house needs to be cleaned top to bottom, inside and out!
Exterior Cleaning Checklist
A great first step to Spring Cleaning is to create a checklist: mop the floors, dust the bookshelves, vacuum the carpet and rugs, etc. The same tactic can be used for deep cleaning the exterior of your home. Make a checklist of the surfaces around your property that need to be properly cleaned. For example:
Remove the mold growing on the sidewalk pavers

Remove the mildew from boards on the patio, deck, and fence

Clean the dirt and grime from the wood siding of the house

Clean the soot buildup from the brick chimney

Remove the algae from the roof shingles

Clean the residue from the lanai and screened enclosures
This is a formidable list, and it's no wonder most homeowner neglect the exterior surfaces of their home and yard, especially during spring cleaning for the outside of the house. The good news is that all of these items on your checklist can be taken care of with pressure washing services. Ready for even more good news? You don't have to be the one to do it! Hire the best professional power washing team and let the experts take care of cleaning the exterior surfaces all around your property. You won't have to rent or buy the expensive equipment, tangle with hoses, get soaked to the bone, or handle dangerous levels of water pressure. Find a pressure washing service you can trust, and leave it to them.
Pressure Washing Jacksonville FL

At First Coast Home Pros, Spring is our favorite time of year, and as you can imagine, we are the Spring Cleaning experts. Our pressure washing teams excel at thoroughly and skillfully cleaning all types of house exteriors. We pride ourselves in the training and experience we give our technicians, and it shows - we're the best pressure washing service in Jacksonville FL! Our customers in Fleming Island, Fernandina Beach, St. Augustine, and the greater Jacksonville area have only one thing on their Spring Cleaning checklists: "Schedule First Coast Home Pros!" Set up your appointment today for a great pressure washing service by the best team in town.